The alchemy of Collage Paper Making is a powerful process that changes and transforms in a mysterious and impressive ways. 


Things happen without my doing and most of the time I'm in awe of how it all presents itself on the surface of the paper. Then when you cut or tear the papers, layer in ways of abstraction and creative composition,
"I don't question I believe in it's Paper Alchemy."  
~Laura Lein-Svencner~


Hi, I'm Laura Lein-Svencner
I grew up in Downers Grove close to my grandfather's farm, which was the last operating farm in Downers Grove, I now reside in Darien, Illinois. Married with four grown children and a home full of loving creatures.
Although I've studied drawing, printmaking, sculpture, book arts and the art of hand papermaking. It is the love of paper and design that calls my attention. I am another generation in the chain of "
Creative Makers
," working with their hands. 
I am grateful for the good medicine offered by walks in the woods, and daily walks with my Bloodhound/Lab-Gracie. The joy of wandering with my husband in interesting old towns or National Parks to the connection with the earth in my own little plot of land.


As I look back, I see that I've always been a very spiritual person and more so as I get older. I love hanging out with my women folk over a good drumming circle or a book club. And family is the heart and soul of our home.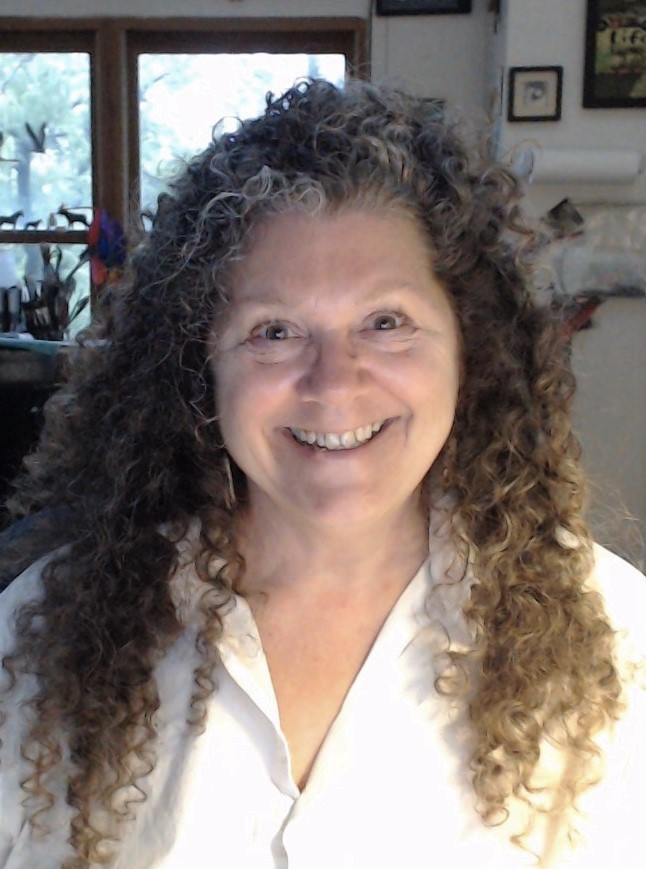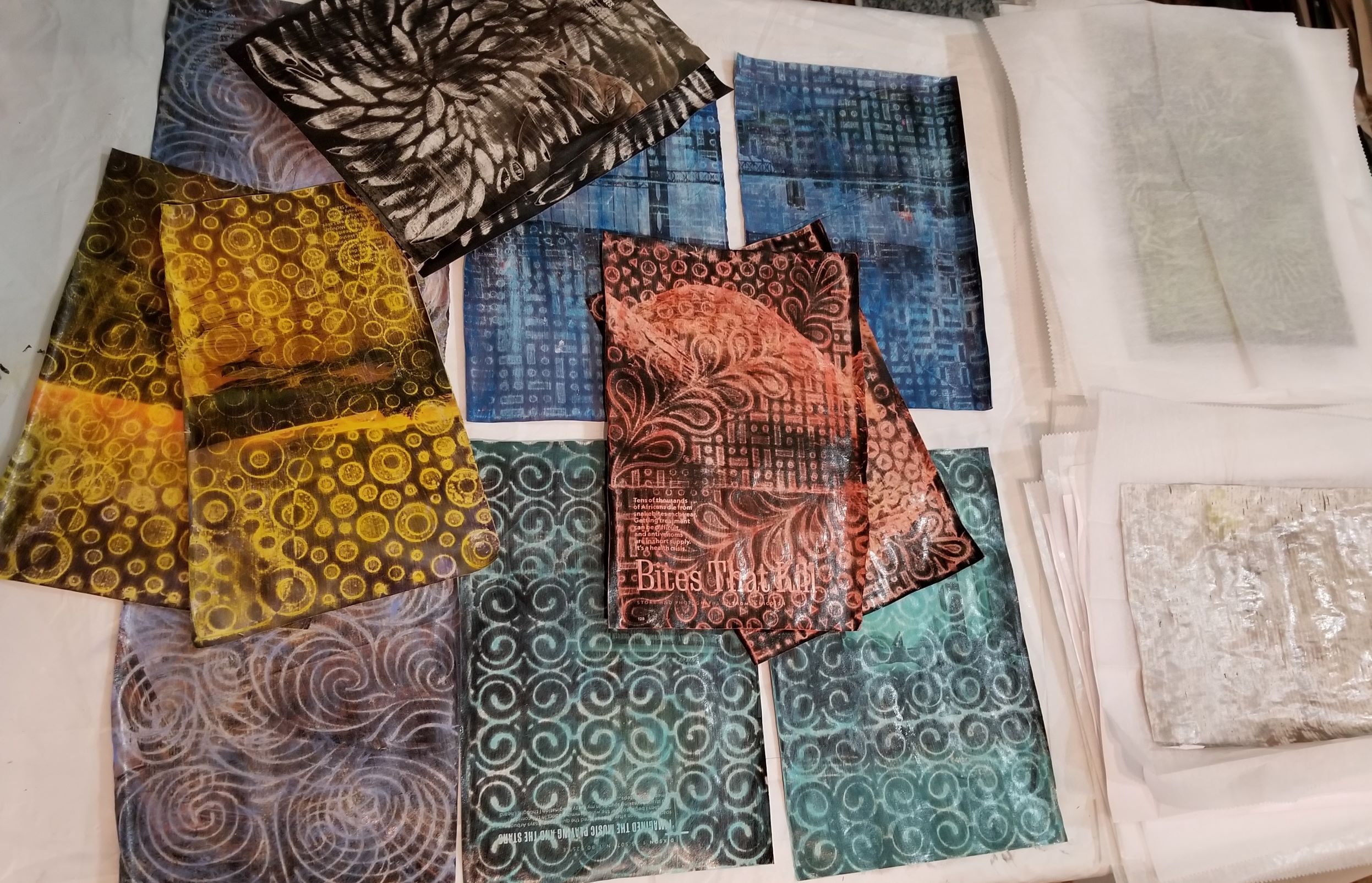 One of the simplest and amazing papers to make is sanded magazine pages. Everyone is so delighted at how quickly you can make them and how great the patterns look.
"We need pattern in our Collage works, it makes for some exciting area in the composition."

Along with pattern another element is Line, Watch the video about line in my own work below.

Follow the List of Classes below in different categories
These selected classes are offered to help you learn about the elements
and principles of design and composition. Take them separately or sign up for the Bundle.
In Collage Meditation class it's here to help you fill a sketchbook and learn about
a practice of daily entries that calm your creative soul and educate with new understanding.
Sharing with you all, a gathering and understanding of the medium of collage.


Take a look at the slideshow video.
Hit pause to examine the slides longer.
A Heads Up about the Classes
In the Collage Classes that are taught here in Lonecrow Studio have mainly two approaches.
First approach you will see classes work with design in a sketchbook that uses only glue sticks, scissors and magazine. I find having some limits helps you focus on the task at hand.


Second approach You will see classes with the process of using a Heat Seal Iron and the coating of all collage papers, that I like to call "Tacking Down."
Please be aware in the process of creating I encourage playfulness and allow you all to jump around at whim. The other side of learning a process it's best to do by slowing down and taking it step by step with instruction.
List of some irons that can be used:
House Iron General house Iron works, Cotton setting, no steam though.
Heat Seal Iron, "Tack Iron" These irons have become difficult to find, as the manufacture has stopped making them.
Oliso- Arts and Craft Iron, I just found this iron and it works great but of course no steam. I like this iron because it regulates the heat and set temperature.
Always use a safety release sheet between the iron and coated papers like parchment paper.


Frequently Asked Questions
How do you get Help with Login In? If you having trouble getting into Lonecrow Studio, after you have already signed up and paid, please know your information is not stored with the instructor. Try clearing you cookies, try again then please check the Help Link Always save your login information.
When does the course begin and end?
The course begins as soon as your transaction is complete. After you sign up you have access to all the course information and can work at your own pace.
How long do I have access to this course?
You have access to this course as long as the instructor is able to keep teaching and the school is open, unless otherwise notified on the individual courses offered. Don't let your course expire on the Shelf. Like an old can of beans in the pantry....something I do often in my house.
What level of ability is this course for?
These course are for anyone willing to learn more about design and composition. Be it for a beginner or more advance it works well for both
Videos-Do I need high speed internet for this course?
It is suggested to view videos with high-speed internet.
Is it that important to have all the supplies on the list?
Work with what you have though there are some techniques in advance courses that work best with set materials. Work with what you have around you first before going out and spend big dollars on supplies. I do prefer Golden's Gloss Medium over other brands
Is there an online community connected with this course?
Currently there is a Facebook Community. It's set up as Private community. Lonecrow Collage Studio
 What is the Refund Policy?
Once you are enrolled in the course, I am unable to offer a refund. You are able to receive the pdf's and video to watch. I encourage you to contact me if you have any questions prior to signing up.
This selection of classes are offered for the
process of Collage and Mixed Media
Collage Palette Making with the process of layering a variety of art materials with intuitive techniques.
Composition is always a concern for visual artists and creative makers
The sense of balance over the whole area is looked at in a way of being pleasing to the makers and to project it out to the viewers. Take a moment and watch the slideshow video below about different styles and compositions.
Hit pause to examine the slides longer.
Collage Assemblage and Book Binding
Combine the different art techniques with collage, assemblage and book binding
Spiritual and Creative
Classes that work with your creativity and spirituality bring them together for wonderful self-expressive moments.
Free and Quick Classes Available

Check out these fun classes to do with children on up to adults, Everyone has fun!