Vertical Mini Collage Landscape Class
There will be two section to this class, first we will make the papers, "build a collage palette."
Second section will be the assemblage of the abstract mini collage landscape. You will have access to the whole process of assembling at once so you can work through it at your own pace. I find myself moving spontaneously through the steps that's why it will be offer all at once.  The class will continue to share long after on the Facebook private group-Lonecrow Collage Studio
You will receive an abundance of information on art materials, links, videos and downloadable handouts to save and use again.
The simple steps will be illustrated and you might find yourself becoming very prolific with it soon after. 
Read further as I hope I can answers some of your question about what this online Course will be about. 
The size is about 6 x 12 inches, makes for a nice piece of artwork for a small area. Their playful, fun, imaginary with a bit of whimsy. Our emphasis will be to defined the middle ground and distinguish a landscape verses the stratus composition, which is fun but can go on and on whereby losing the visual sense of the landscape. This we will watch out for.  
We will learn how to define this in a few simple steps. Please read through the information and see if this is a fit for you. Creative souls have been asking for me to teach this online way too long and I'm so happy to offer it to you now. 
The Stratus Composition isn't a bad composition, but a challenging one. It doesn't always show what we relate to or understand a landscape to be, It's more abstract in style. Our main agenda and focus of this course will be to distinguish the horizon line. Where the Earth and Sky meet. In this space we will embellish and focus on with fun details. Some like to call it the "Belt" but it's really the middle ground. 
Tack Down Method of Collaging
In the Collage Classes that is taught in Lonecrow Studio that are not in a sketchbook we use an irons and we coat or papers.


When we aren't working with a tack iron, we are usually in a sketchbook with magazines and a glue stick.
List if some irons that can be used:
House Iron General house Iron works, Cotton setting, no steam though.
Heat Seal Iron, "Tack Iron" These irons have become difficult to find, as the manufacture has stopped making them.
Oliso- Arts and Craft Iron, I just found this iron and it works great but of course no steam. I like this iron because it regulates the heat and set temperature.
Always use a safety release sheet between the iron and coated papers like parchment paper.
Abstract art has the power to show us something we may not have seen before. It implies both thought and no thought. Thriving on unconventional tools and a unique sort of energy, it's also a collaboration of mind and spirit. As a form of wizardry and magic, an abstract may speak both to you and for you more than anything abstract art can be a conversation piece.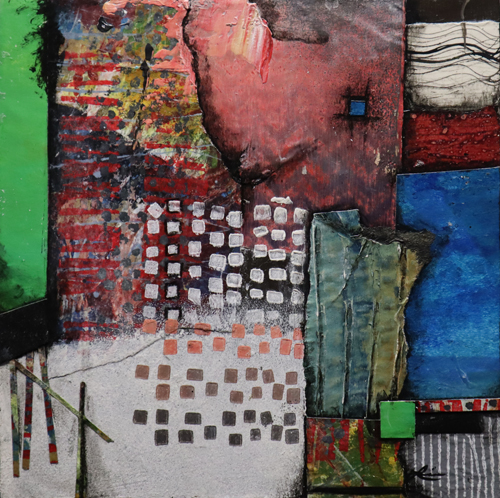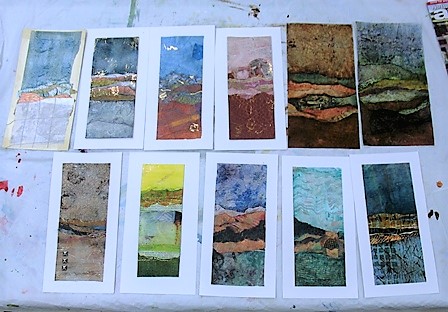 After you get the hang of the process and procedures you might end up having so much fun you could end up making a whole series of them. Color studies are another way to look at it too.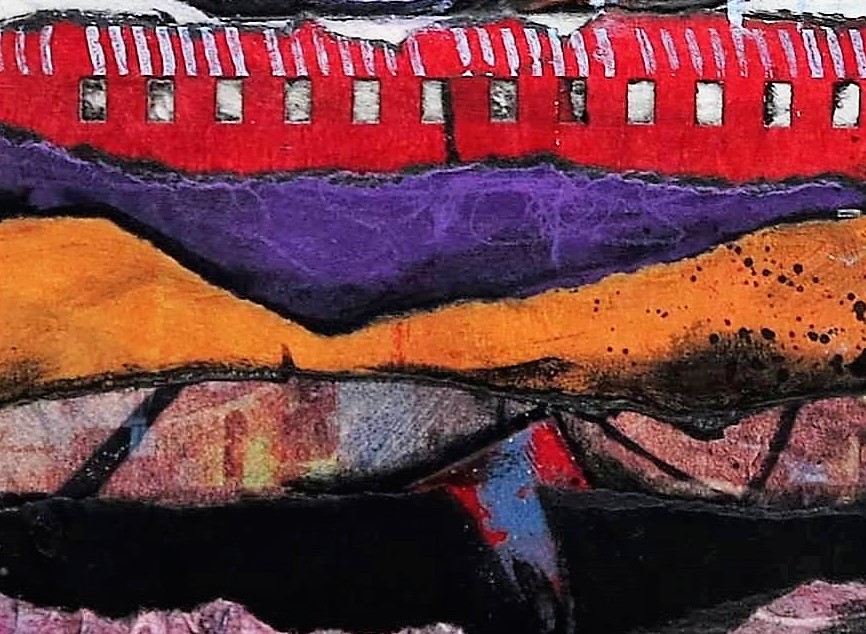 Rich fun angled layers can be played off of each other. Create an edgy landscape.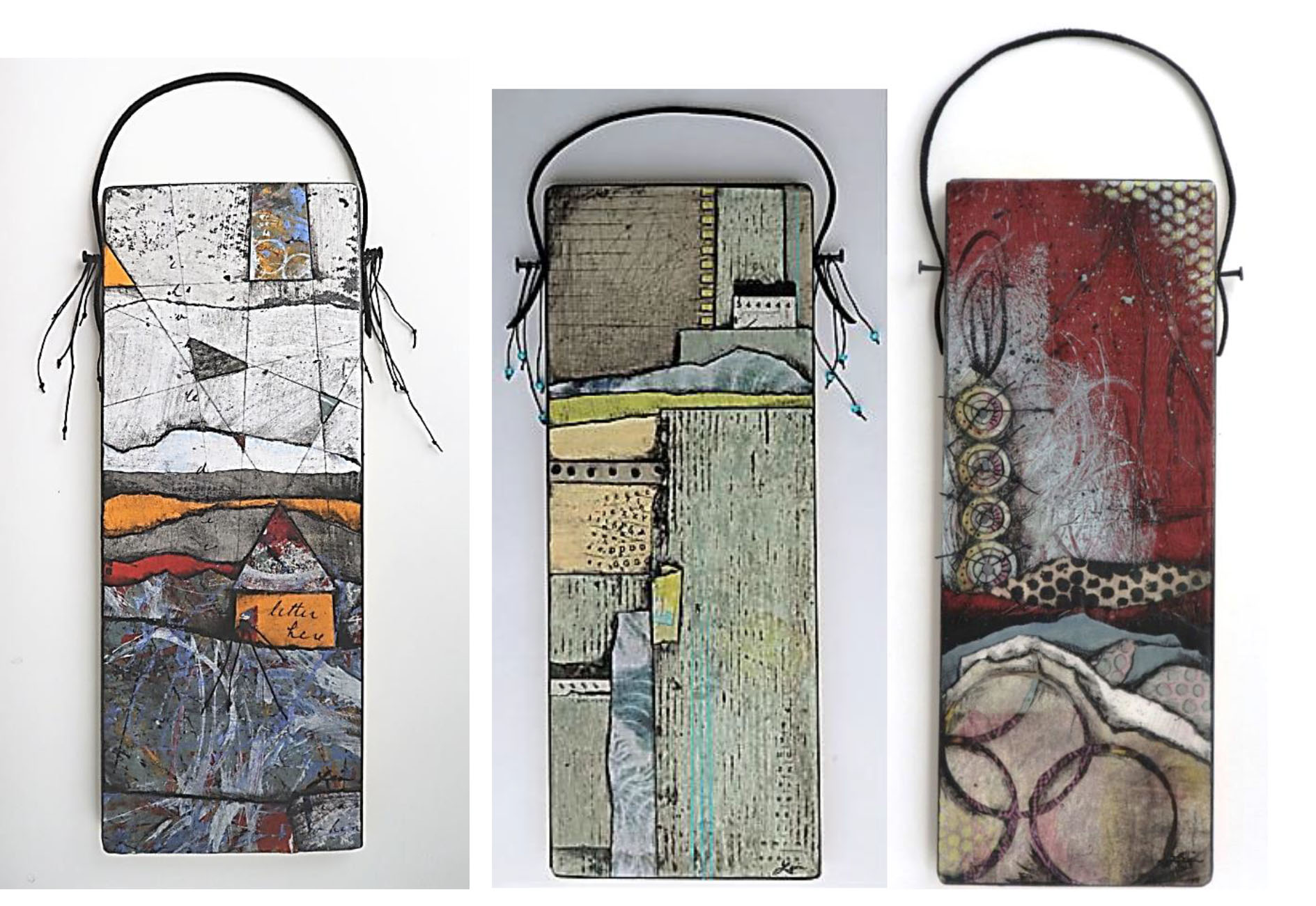 This series sprang from the understanding of the Abstract Mini Collage Landscapes. They are fused to piece of wood and leather strap hangers are attached.
"Let the fun begin," Create the Palette, Collage to Abstract a Mini Landscape a Tack Iron Process.

Tack Iron Method of Adhering Collage Papers
During this course the method use is a bit of a lengthy process of coating papers on the front and back after they have been made or altered.
The papers are dried when assembling them and you use a safety release silicone paper or parchment paper between the iron and you will heat seal it together. "No Wet Gluing, Just tack them in place."
You can use your house Iron-Cotton setting no steam. 
Classes Available
Take a look and see which one will be right for you.
Frequently Asked Questions:
How do you get Help with Login In? If you having trouble getting into Lonecrow Studio, after you have already signed up and paid, please know your information is not stored with the instructor. Try clearing you cookies, try again then please check the Help Link Save your login information.
When does the course begin and end?
The course begins as soon as your transaction is complete. After you sign up you have access to all the course information and can work at your own pace.
How long do I have access to this course?
You have access to this course as long as the instructor is able to keep teaching and the school is open, unless otherwise notified on the individual courses offered. Don't let your course expire on the Shelf. Like an old can of beans in the pantry....something I do often in my house.
What level of ability is this course for?
This course is for anyone willing to learn more about design and composition. Be it for a beginner or more advance it works well for both
Videos-Do I need high speed internet for this course?
It is suggested to view videos with high-speed internet.
Is it that important to have all the supplies on the list?
Work with what you have though there are some techniques in advance courses that work best with set materials. Work with what you have around you first before going out and spend big dollars on supplies. I do prefer Golden's Gloss Medium over other brands
Is there an online community connected with this course?
Currently there is a Facebook Community. It's set up as Private community.
It is where everyone shares that have taken any of my classes.
What is the Refund Policy?
Once you are enrolled in the course, I am unable to offer a refund. You are able to receive the pdf's and video to watch. I encourage you to contact me if you have any questions prior to signing up.