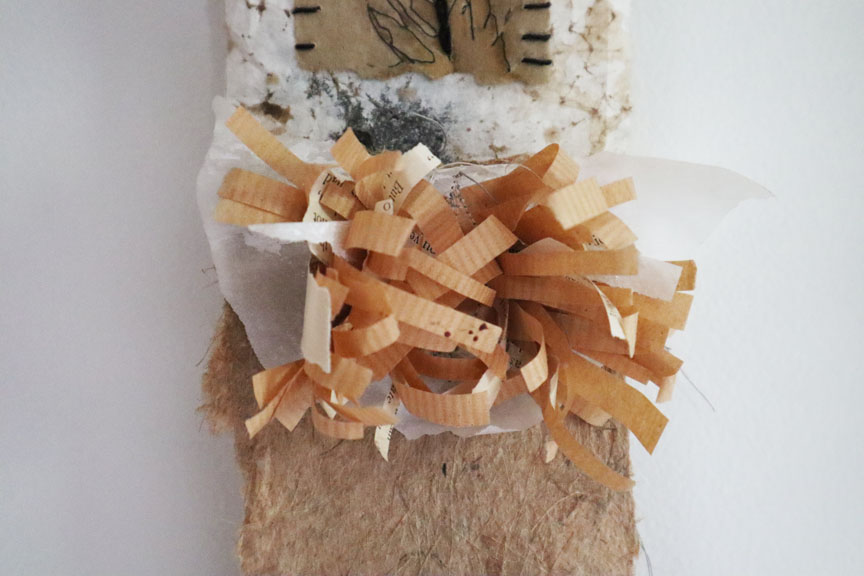 Art can be made out of many resources and with today's reuse and recycle mindset you can create lovely pieces of hanging art with natural elements.
Hand Sewing to Machine Sewing
Either stitch is encouraged along with the imperfect random marks made with the thread for design to securing elements in place.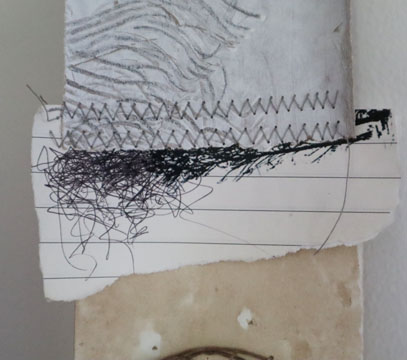 Pen Scribble

Did you ever wonder what it would be like to scribble and let it be? Here is where you can bring in your own gestural marks and extend personal expression.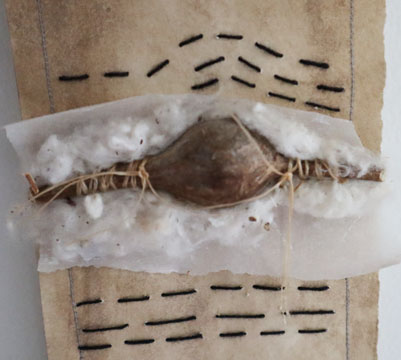 Golden Rod Gal

Gathering elements from nature can add that extra something to your hanging scroll. Take a walk and see what you can find.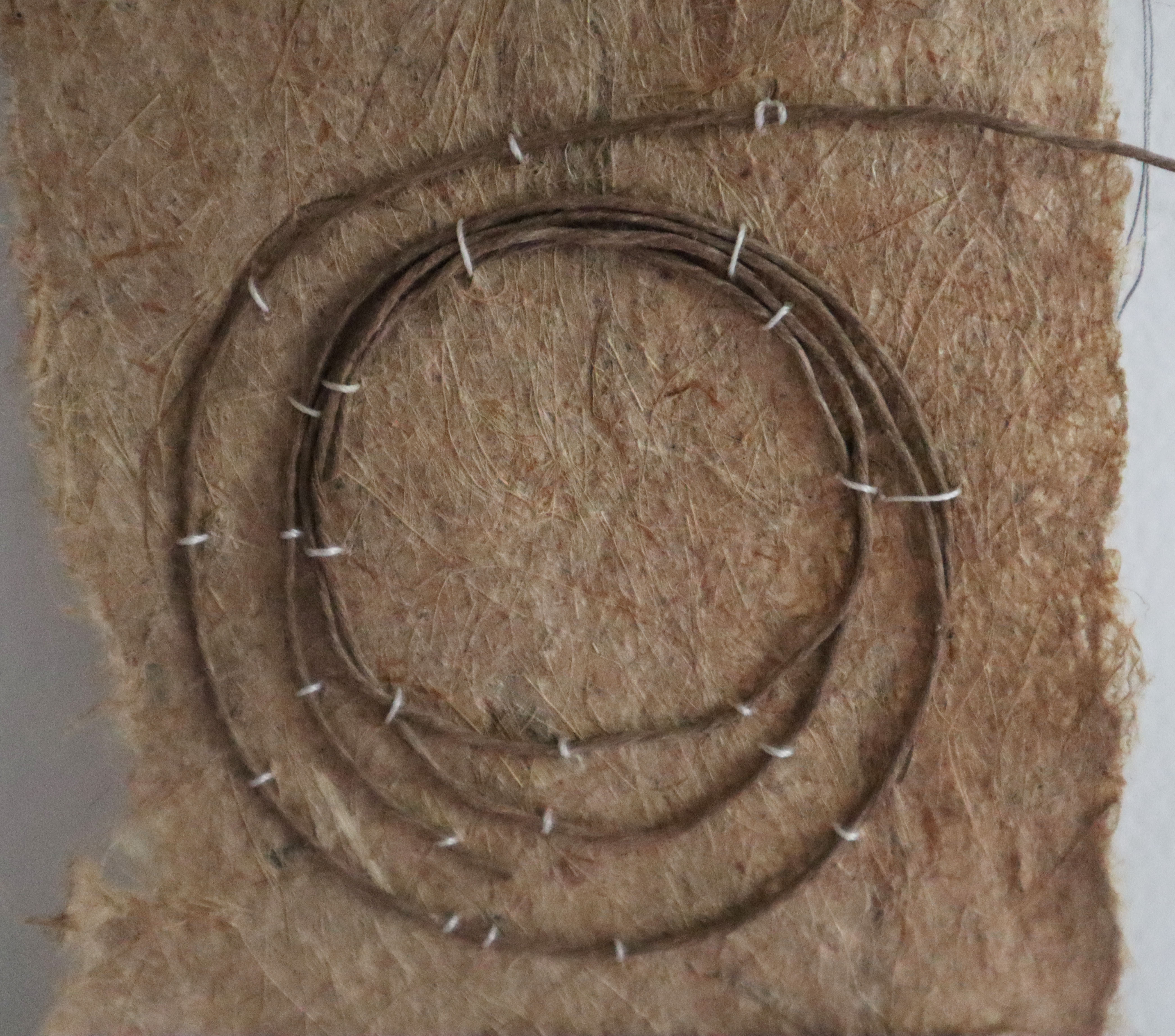 String and stitching

Cycles, loops and spirals pop up in nature all the time, or might it be an eddie in a stream you see?

What is offered in this Class?
The opportunity to create hanging art without a frame or glass

Natural and Organic paper surface altering.
Downloadable handouts.
Downloadable instructional packet
Over 37 videos
The raw and special bits of creative art making where hanging threads are the best part.
A place to tell a story that will go on forever.
Observe the information provided and let the fun begin right after you select to hit the button.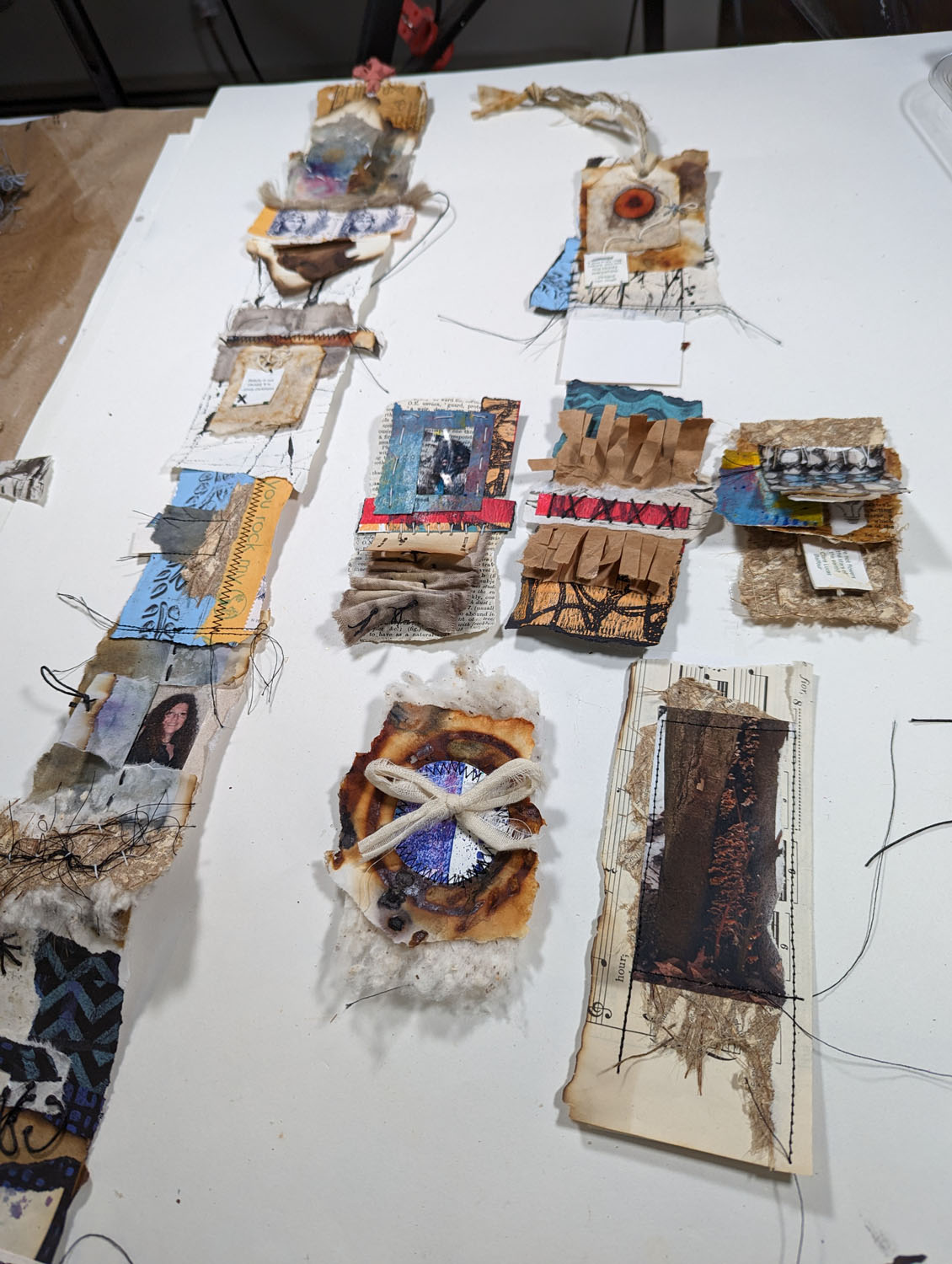 Working with the different sizes sections


Having a system of how many sections your going to have with all three will help out greatly.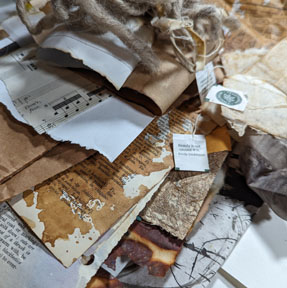 Taking a good look at the papers you made

Amazing what can be done to the surface of papers and how grand they look just dyed with natural pigments.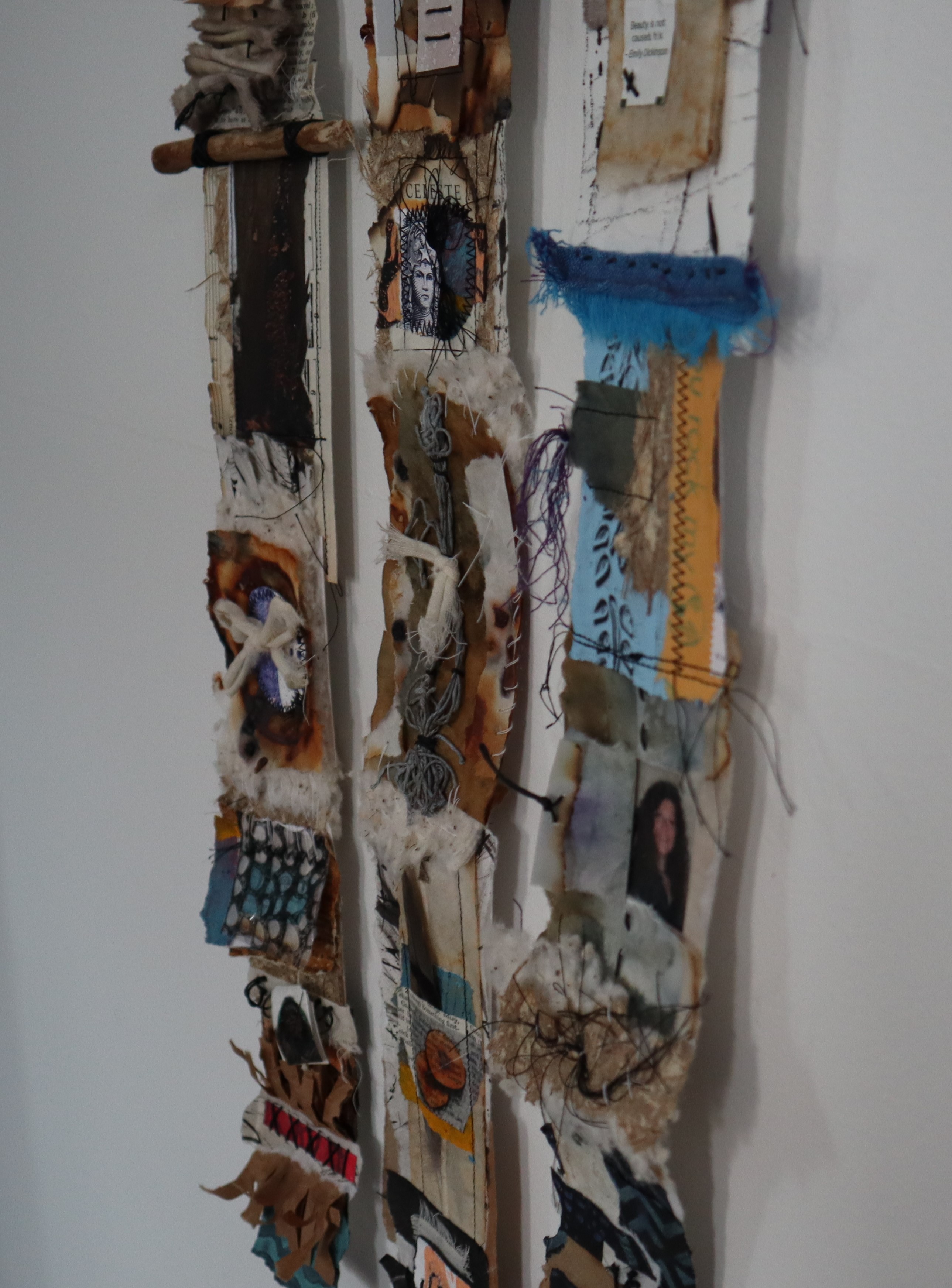 Each have the same papers but are different


When working in a series as these it encourages you to try something different with each one. Though trying them together with the same elements.


How long should it be?

That is a good question, as you being this journey you will need to visualize or measure how long you would like to make your hanging scroll. And you might want to figure out how many scrolls you will have hanging next to each other. Odd numbers are always a good choice.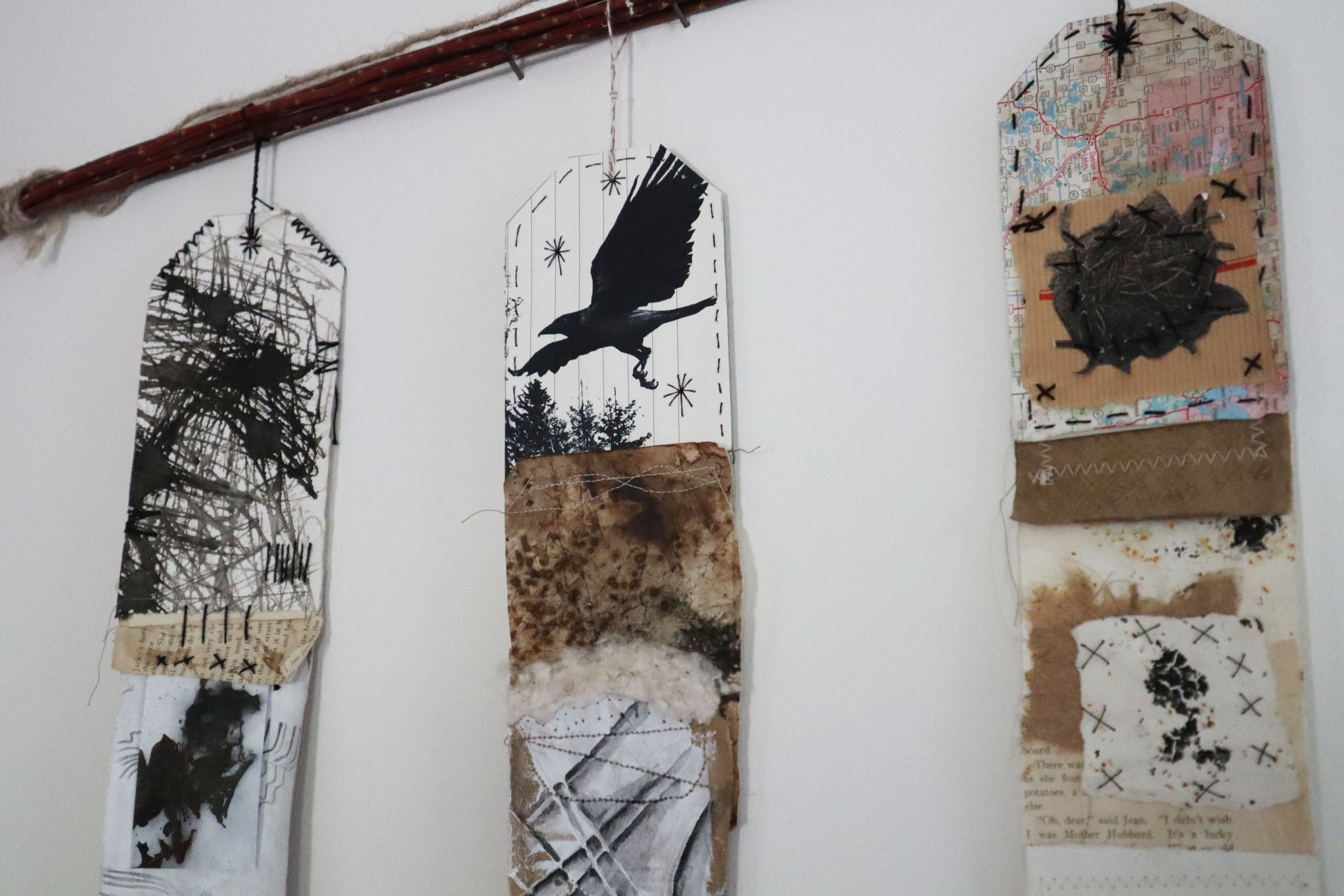 Starting with a Tag
So many ways to start a hanging scroll but I found just purchasing the tags or making them yourself can be a great way to start your hanging scroll.

Frequently Asked Questions:
How do you get Help with Login In? If you having trouble getting into Lonecrow Studio, after you have already signed up and paid, please know your information is not stored with the instructor. Try clearing you cookies, try again then please check the Help Link Save your login information.
When does the course begin and end?
The course begins as soon as your transaction is complete. After you sign up you have access to all the course information and can work at your own pace.
How long do I have access to this course?
You have access to this course as long as the instructor is able to keep teaching and the school is open, unless otherwise notified on the individual courses offered. Don't let your course expire on the Shelf. Like an old can of beans in the pantry....something I do often in my house.
What level of ability is this course for?
This course is for anyone willing to learn more about design and composition. Be it for a beginner or more advance it works well for both
Videos-Do I need high speed internet for this course?
It is suggested to view videos with high-speed internet.
Is it that important to have all the supplies on the list?
Work with what you have though there are some techniques in advance courses that work best with set materials. Work with what you have around you first before going out and spend big dollars on supplies. I do prefer Golden's Gloss Medium over other brands
Is there an online community connected with this course?
Currently there is a Facebook Community. It's set up as Private community.
It is where everyone shares that have taken any of my classes.
What is the Refund Policy?
Once you are enrolled in the course, I am unable to offer a refund. You are able to receive the pdf's and video to watch. I encourage you to contact me if you have any questions prior to signing up.
Here are a few other classes you might be interested in
Working in Collage and Mixed Media there are so many different ways
to work with your hands, heart and creative spirit. Enjoy one of these classes for just that kind of inspiration.