About the Instructor
Laura Lein-Svencner has been working in the medium of collage for 27 years. She has established a process and a practice around her art. 


She is a signature member of the National Collage Society, co-founder of the Midwest Collage Society, which exhibits throughout the Midwest Chicagoland area. She has won many awards for her work which are represented at Woodwalk Gallery Egg Harbor WI, The Clearing Folk Art School Ellison Bay WI. 


She has been a creative workshop instructor at Dillman's in Lac Du Flambeau WI. for 11 years. Her works have been published in Incite 1, 2, 3 and 4 of North Light Publishing, Somerset Studio Magazine, Cloth Paper Scissor Magazine, The Professional Artist Magazine, The Artists Magazine and The Watercolor Artist Magazine through the years.


Laura has self-published a
Collage Sketchbook-Instructional Design Book
, and she continues her second love of teaching the fine art of collage in classroom settings, workshops and online.


From 2015 to present, Laura's work was selected to be printed on material by a clothing design company Dolcezza-Simply Art from Canada. https://dolcezza.ca/


When she gets older she has told many of us that she just wants to be able to continue to drop off artwork at a gallery space even till she's 80 years old.
The simple life is more attractive to her, gardening, yard work, walking the family dog to gathering good medicine in the woods, or hanging with her sage women in a drumming circle. The joys of Nature are the best gifts along with sharing it with her life partner Randy-A.K.A the Husband.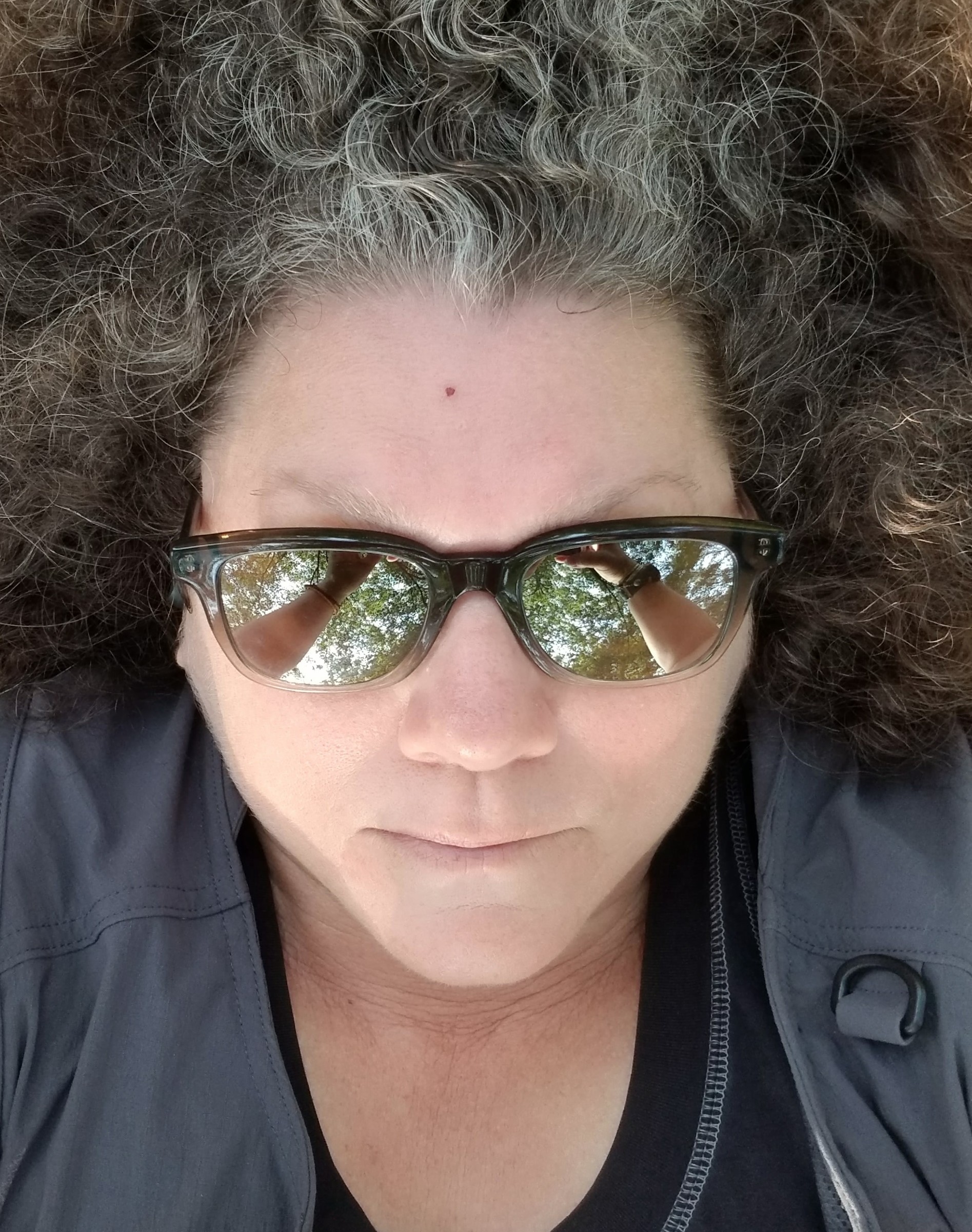 Loving the Gray, I use to dye my hair some what in High School but I never was one that like to keep that up so when the gray started to come in, I welcomed it.
Gracie, (Lou Freebush) or Gracie (Lou McGoo)
She's my left side companion, in walking, by my side at the kitchen table and next to our bed. Rescued at 3 1/2months old, now almost 5 years old, she's a Bloodhound/Lab.
We love her dearly.